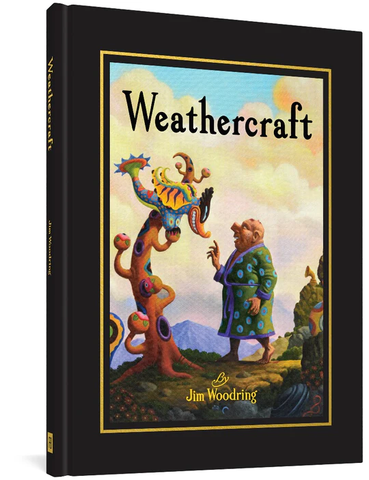 Jim Woodring's Weathercraft Hardcover book
Weathercraft is acclaimed cartoonist and painter Jim Woodring's first full-length graphic novel. Weathercraft stars Manhog, who, after 32 pages of almost incomprehensible suffering, embarks upon a transformative journey and attains enlightenment. He wants to go to celestial realms but instead altruistically returns to the Unifactor to undo a wrong he has inadvertently brought about: The transformation of the evil politician Whim into a mind-destroying plant-demon who distorts and enslaves Frank and his friends. The new and metaphysically expanded Manhog sets out for a final battle with Whim...
104 pages  Hardback 
Black and white interiors, 8.3" × 11.3"
Published by Fantagraphics.
Unfort. we can not send packages to prisons. Please double check your address or provide work address before you check out.
Check out these quality items also